I absolutely adore spoiling people. I just can't get enough of seeing peoples faces when you've done something nice for them. When my clients book with me I like to send them something special. It's my way of saying 'Thank you for trusting me and taking a chance on me.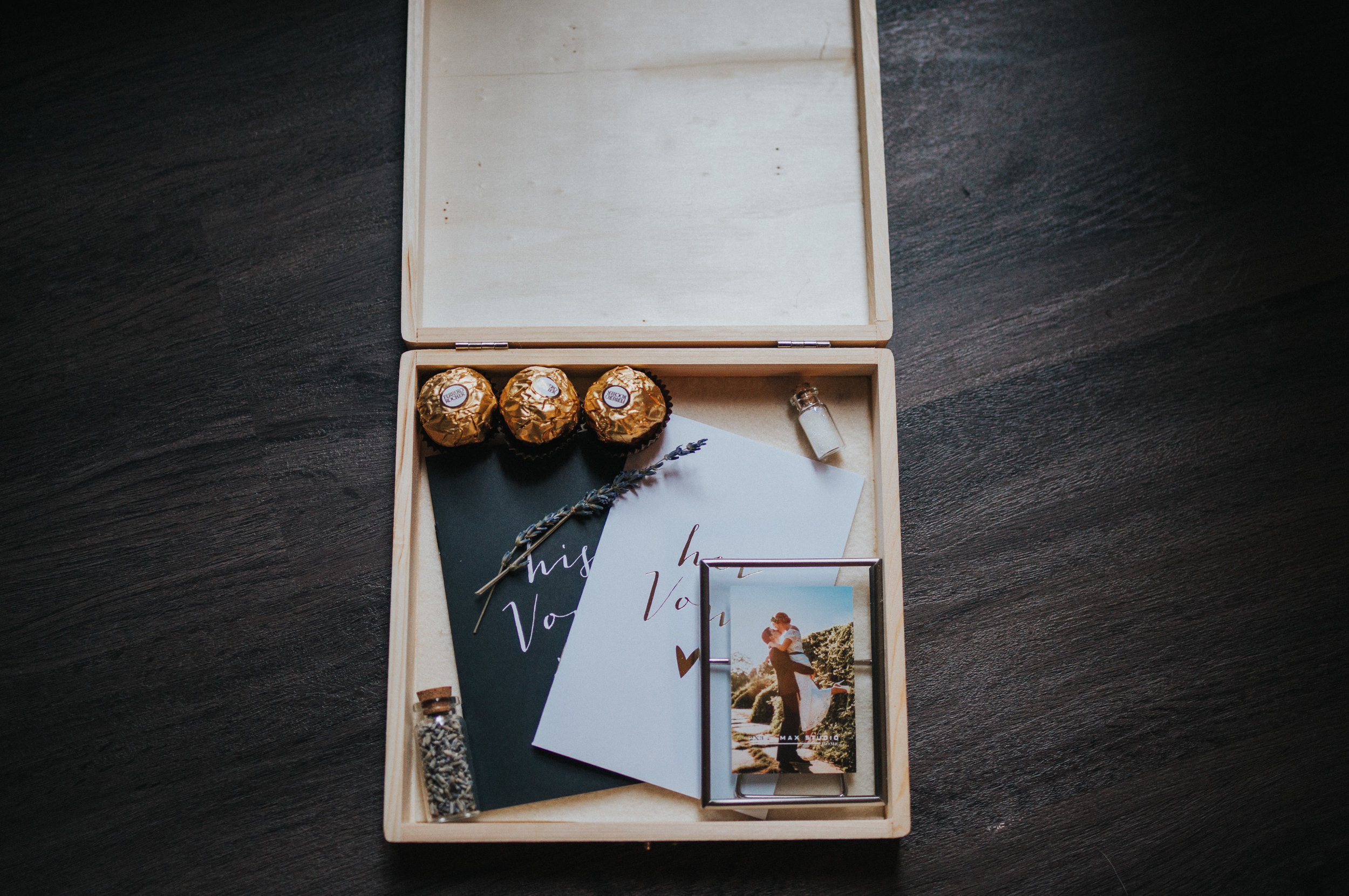 These boxes are always different for each client with only minor adjustments based on what I have learned about my couples. I can tell you that they always have some sort of chocolate though!
These boxes can be easily recreated with a quick trip to your local craft store. They can honestly be used to gift in any industry, I just so happen to use them for photography.
Materials
Wooden box or could also use glass containers or any other box that represents your brand. I use to burn my logo onto these boxes but have recently done away with that.

Piece of fabric for the bottom of the container. Here I used a beige piece of felt. In past projects I have used leather and lace.

Small picture frame- I will typically print off a photo of my couple either from a session we've done together such as engagement photos.

I eat, sleep, and breath lavender. It's kind of my signature move. However, lavender can be messy so to incorporate it I fill tiny glass vials. One with lavender and one with glitter for an extra girly touch.

Chocolate, chocolate, CHOCOLATE!! Make sure you account for any allergies.

Something personal for the couple. Here I choose vow booklets from Stevie and Bean on Etsy. Other ideas ive done in the past our passport holders, candles, wine glasses, wedding planner with timeline of events, and keychains with wedding dates. Get creative!

I also always include a thank you letter. Gotta spill my heart out as well, right?
The sky is the limit with these bad boys! Just a fun and simple way to show your clients some appreciation. I typically do not mail these unless my client is out of state or they live far from my city. I love to drop them off at their home, kind of a ding and dash kind of thing. Ha! Feels more special and personal to me.
What types of things do you like to do for your clients as a welcome to the family?